04 mar

MEDALE AMP ROZDANE

Hanna Miśniakiewicz (UWr Wrocław) i Adam Chrapek (PŚ Gliwice) w gigancie oraz Zofia Stelmach (AWF Kraków) i Antoni Szczepanik (AGH Kraków) w slalomie wywalczyli tytuły akademickich mistrzostw Polski w narciarstwie alpejskim.ierwszy dzień mistrzostw to najintensywniejszy moment w trakcie całej imprezy. W ciągu kilku godzin odbywają się bowiem przejazdy eliminacyjne oraz wielki finał. Na półmetku batalii o medale w stawce kobiet prowadziła Maria Leonowicz (UPe Kraków). Tuż za nią znajdowały się Wiktoria Gibiec (UMe Wrocław) i Hanna Miśniakiewicz, ale różnice czasowe w czołówce były minimalne. Drugi przejazd przyniósł roszadę w czołowej trójce. Najlepszy czas przejazdu wykręciła Hanna Miśniakiewicz i mogła zasiąść na fotelu liderki. Ani Wiktoria Gibiec, ani Maria Leonowicz nie zdołały wzbić się na poziom prezentowany przez zawodniczkę z Uniwersytetu Wrocławskiego i musiały zadowolić się medalami z mniej cennych kruszców. O zwycięstwie zadecydowały zaledwie 0,02 sek. – tyle od złota była Marysia. Wiktoria, podobnie jak rok temu wywalczyła brąz i była ogromnie zadowolona z tego sukcesu. Warto zwrócić uwagę na bardzo wyrównany poziom najlepszych dziewcząt (wręcz niespotykany!). Dziewięć pań z czołowych miejsc w drugim przejeździe zmieściło się w 0,44 sek.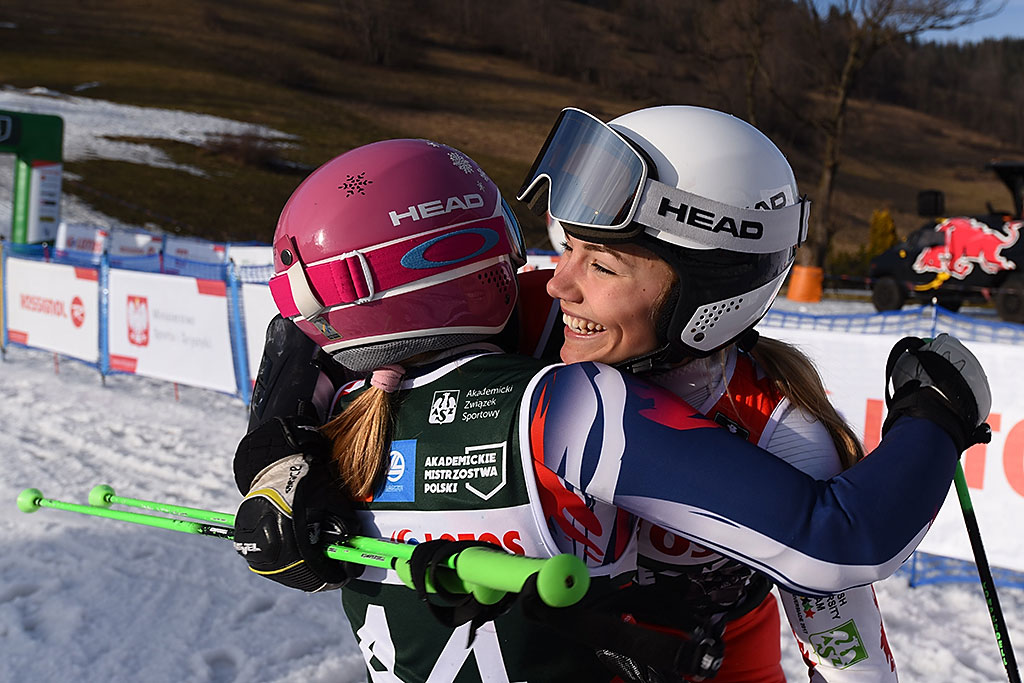 Setne części sekundy zadecydowały również o tytule mistrzowskim w klasyfikacji mężczyzn. Tu po pierwszym przejeździe prowadził Jakub Tabaszewski (AWF Katowice), który rok temu przegrał złoto o 0,03 sek. z Szymonem Mitanem (AGH Kraków). Również i tym razem Jakubowi nie udało się sięgnąć po upragnione mistrzostwo, a marzeń pozbawił go Adam Chrapek. Strata do Jakuba Tabaszewskiego po pierwszym przejeździe była minimalna i w decydującym przejeździe Adamowi udało się przechylić szalę zwycięstwa na swoją stronę. Ostatecznie wygrał o 0,06 sek. Niesamowitego czynu dokonał Antoni Szczepanik (AGH Kraków), którego wielu spisało na straty, po słabym występie w eliminacjach. 13. czas pierwszego przejazdu nie dawał nadziei na szczęśliwe zakończenie. Jednak to, co Antek zrobił decydującym momencie to prawdziwy majstersztyk. Zdecydowanie wygrał drugi przejazd i z niedowierzaniem obserwował poczynania rywali, siedząc na "gorącym krześle" lidera. Dopiero najlepsza dwójka zdołała zepchnąć go na trzecie miejsce, ale dawno nie widzieliśmy ataku na podium z tak odległej pozycji.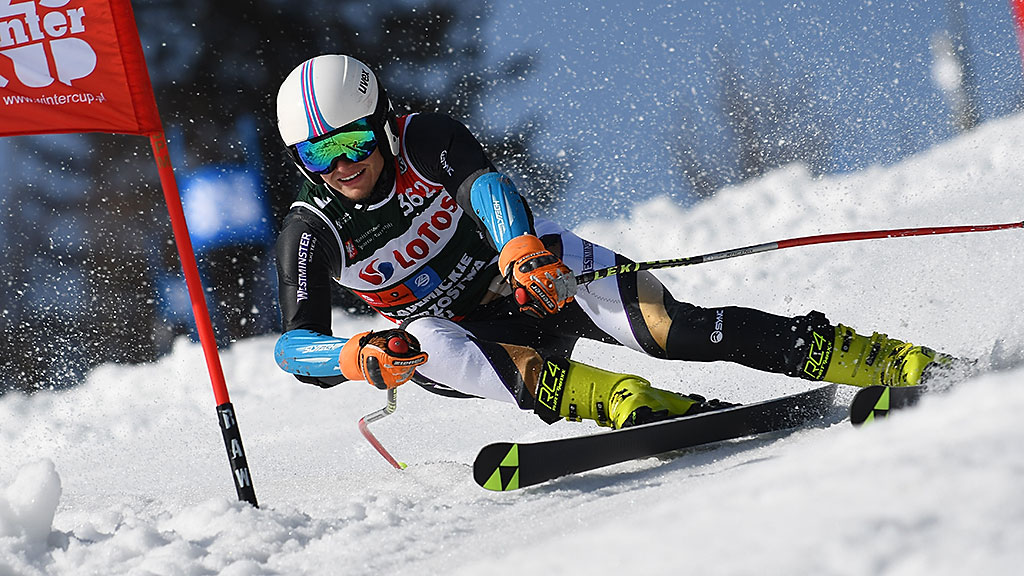 Rywalizację o medale w slalomie o godz. 9.00 rozpoczęli panowie. I było to otwarcie zaskakujące. Po przejeździe czterech najwyżej rozstawionych zawodników tylko Antoni Szczepanik zachował szansę na medal. Adam Sobota (PP Poznań) i Paweł Jaksina (AGH Kraków) wypadli z trasy, a Dominik Białobrzycki (AWF Katowice) zdołał dotrzeć do mety, ale strata ponad trzech sekund do lidera nie napawała optymizmem. Trasę najszybciej pokonał Adam Chrapek (PŚ Gliwice), który na półmetku wyprzedzał Antka o 0,18 sek. Trzeci na mecie Szymon Mitan (AGH Kraków) miał już ponad sekundę straty i tylko iluzoryczne szanse na tytuł. Długo na fotelu lidera przebywał autor najlepszego czasu drugiego przejazdu Dominik Białobrzycki. Zmienił go, będący w świetnej dyspozycji podczas całych mistrzostw, Jakub Zastawny (PŚ Gliwice). Zgodnie z przewidywaniami medale zdobyli trzej najlepsi zawodnicy po pierwszym przejeździe. Brąz wywalczył Szymon Mitan, a o złoto starli się dwaj najlepsi alpejczycy w przekroju całego akademickiego sezonu. Zaczął Antoni Szczepanik, który świetnie wykonał swoją robotę. Wszystko zależało od Adama Chrapka. Zegar bezlitośnie odliczał sekundę po sekundzie i musiał to robić o 0,57 sek. dłużej niż podczas przejazdu poprzednika. Była to za duża strata i Antek mógł unieść ręce w geście tryumfu. Spokojny na co dzień zawodnik nie ukrywał radości i cieszył się jak dziecko. Wspaniały moment wspaniałych mistrzostw Polski.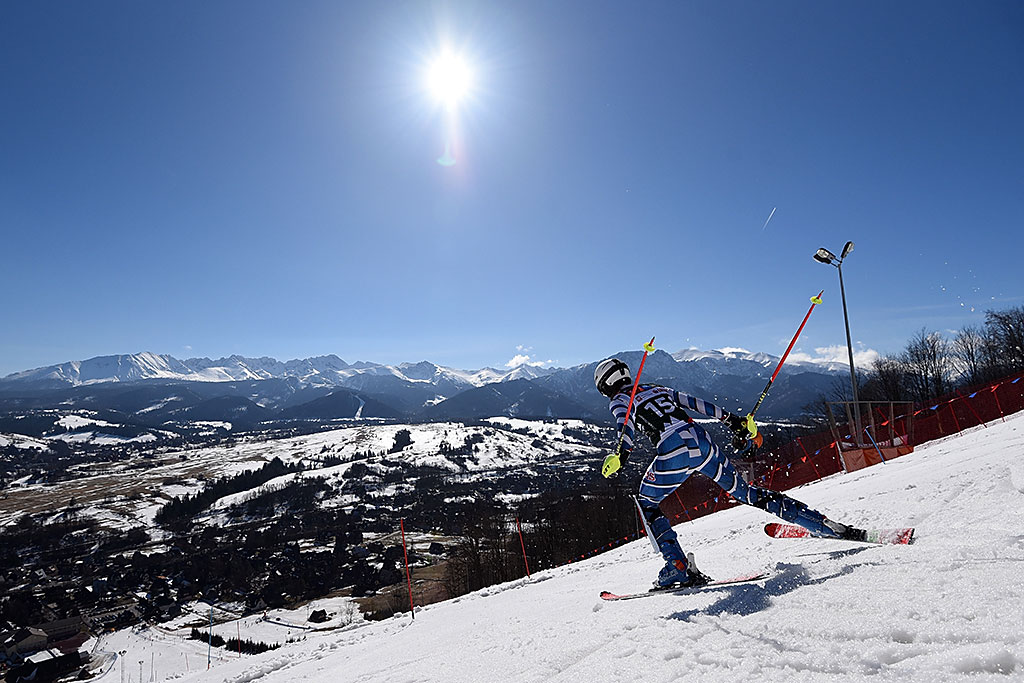 W rywalizacji kobiet wszyscy spodziewali się powtórki z akademickiego Pucharu Polski i walki Iwony Kohut (AWF Wrocław) z Heleną Kubasiewicz (ALK Warszawa), być może z małym atakiem ze strony świetnej w eliminacjach Aleksandry Pluty (UAM Poznań). Bombę odpaliła natomiast Zofia Stelmach, która nie dała się jeszcze poznać w akademickim środowisku (pojawiła się tylko na zawodach AZS Winter Cup w Szczawnicy, gdzie dwukrotnie była czwarta). Zawodniczka z krakowskiej AWF wypracowała całkiem pokaźną zaliczkę (0,57 sek.) nad Heleną. Z trzecim rezultatem na metę dotarła mistrzyni w gigancie Hanna Miśniakiewicz (UWr Wrocław). Czasy, które dawały nadzieję na walkę o medale, uzyskały jeszcze tylko Iwona Kohut i Ola Pluta.
Doskonały drugi przejazd wykonała Iwona Kohut. Później okazało się, że był to najlepszy czas, ale jednak słabszy występ w pierwszym, nie pozwolił myśleć o tytule. Iwona pozostała na fotelu lidera do momentu, gdy na górze zostały tylko dwie zawodniczki. Helena Kubasiewicz objęła prowadzenie, ale jej przejazd nie był idealny. Przed niepowtarzalną szansą stanęła Zofia Stelmach. Debiutująca w mistrzostwach zawodniczka wytrzymała ciśnienie i zwyciężyła, rozbudowując przewagę nad Heleną do 1,18 sek. Radości nie było końca.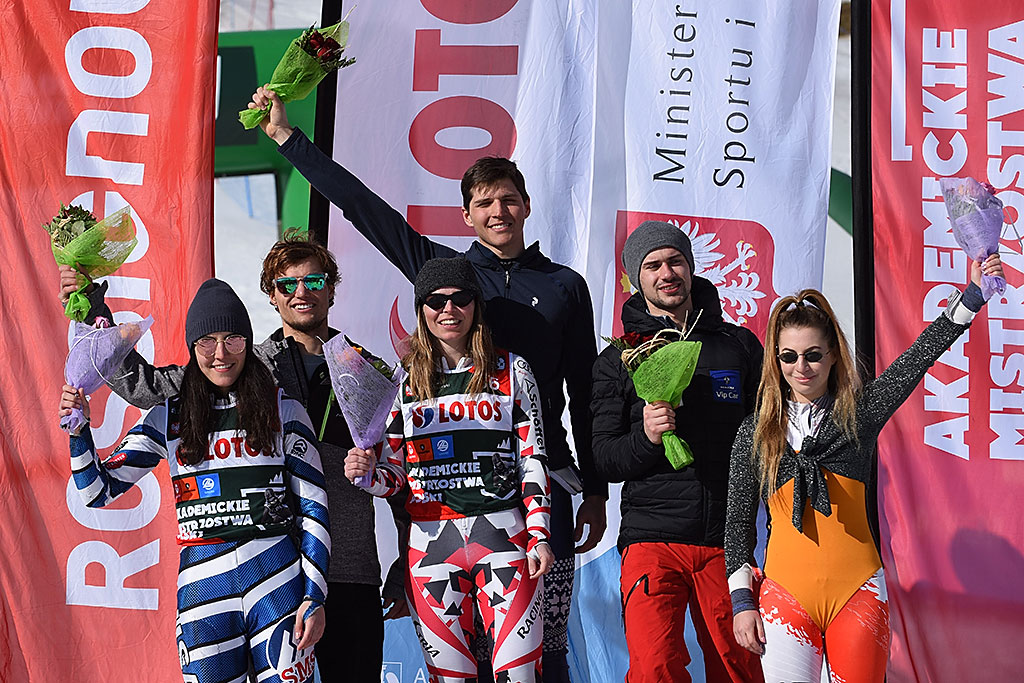 Autor: Michał Szypliński, www.ntn.pl